Facebook TabSite is a new Facebook App we created that allows you to create a mini-website and custom Welcome landing page for all new visitors to see when they come to your Facebook Fan Page. No more needing to use Static FBML or any need to know FBML or HTML code at all and yet have a custom-designed and always up-to-date Fan Page and Fan Page Welcome message!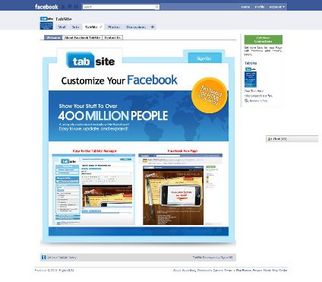 Wouldn't it be nice to direct people to your Fan Page and then instead of them seeing your Wall first or Info Tab first, you could greet them, show them your product/services/message and even direct them to learn more right away within your Facebook Fan Page about your company/organization? TabSite allows you to do all this!
Perfect for Small Business Owners and Marketing Directors who don't want to wait on programmers to write FBML code, Facebook TabSite allows users the ability to use a simple CMS WYSIWYG (What You See Is What You Get) editor where you can add text, images, links, and more to your Fan Page Welcome message.
Showcase your products, capture their attention, allow them to contact you and more! Facebook TabSite, the new way to customize Welcome messages for your Fan Page.
See our Welcome page on Facebook at www.Facebook.com/TabSite.
Visit the Facebook TabSite website for full information and details.